Custom Air Bearing Services
Not sure if our standard air bearings are the best fit for your requirements? Do have an application that might require a custom designed air bearing? Or do you need help designing an interface with a standard air bearing? Specialty Components' custom services can help you design and develop an air bearing made for your specific application.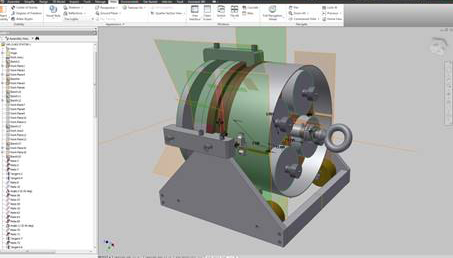 Full CAD-based engineering design with FEA for structural, dynamic and fluid flow modeling. Our ISO 9001-certified engineering design and development process ensures thorough and careful attention to all aspects of the project plan. We have unique experience with precision machine design utilizing air bearings that will help accelerate your project. In many cases a custom air bearing results in a more cost effective solution than using the standard products we offer. Mounting interface elements may be integrated into the air bearing housing thereby reducing the number of components in your assembly.
Many of the custom solutions we deliver include multi-level assemblies which integrate motors, position sensors or mounting components directly to the air bearing. Combined with our high-precision diamond turning capabilities, assemblies can be produced with highly accurate reference surfaces or locating features.
Our in-house metrology department includes a full suite of state-of-the-art measuring instruments to qualify all aspects of the design including dimensional accuracy using CMMs, surface roughness and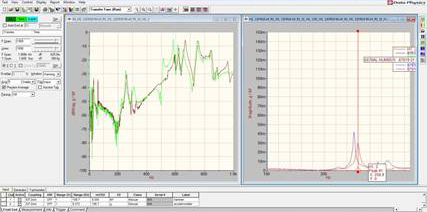 Dynamic response analysis of structural and air film characteristics. form measurement, air bearing performance testing and stiffness.
When dynamic characteristics of the air film and/or structural elements are critical to successful performance, testing may also include frequency response analysis using high precision dynamic signal analyzers.
Custom air bearings or other new products adhere to the following design and development process prescribed by our ISO 9001-certified quality management system:
Design phase: Input and output characteristics, dimensional data, materials, and other requirements are gathered from the customer. This data is developed into a conceptual air bearing by our engineering department utilizing previous design knowledge, industry technology, materials and resources available, statutory and regulatory requirements and best practices.
Development phase: the outputs from the Design Concept are used to develop the technical documents necessary to build a prototype air bearing.
Prototype Build: The prototype is manufactured according to the developed technical documents, which may include customer drawings of the layout and other components.
Verification of Prototype: The verification process is performed during and at the completion of the build process. The intent of verification is to ensure that all the parts, materials, processes and inspections comply with the design input criteria.
Validation of Prototype: The validation process is performed at the end of the development. The intent of validation is to ensure that the air bearing functions as required by the customer purchase order requirements or specifications.
Have Questions? Click here to contact us