Spherical Air Bearings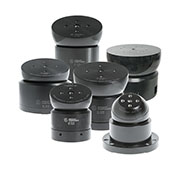 The wide range of standard sizes and travel ranges of the SRA series Spherical Air Bearings makes for straightforward design application. The hemisphere rotates with zero wear and friction in three degrees of freedom and incorporates conveniently placed mounting features.
Pneumatic hammering of the air film can plague an air bearing design and result in unstable bearing performance. Unlike other spherical air bearings, the SRA series eliminates this possibility by including vibration dampening features within the design.
Deep capture of the sphere allows for higher side loads; an important characteristic to possess when simulating satellite motion control systems. Also used for highly accurate frictionless wafer-plane alignment in semiconductor tools, spherical air bearings offer an unequaled choice for precision rotation.
Many of the products we produce are adapted or customized in some manner to meet specific application requirements. If you do not see exactly what you are looking for within this product line, please contact Specialty Components; we would be glad to help you design, prototype and manufacture your own design.
| Model: | Part #: | Base Diameter, inches [mm]: | Load Capacity, lbs[N]: | |
| --- | --- | --- | --- | --- |
| SRA100-R15 | 620-39115 | 2.2 [56.1] | 75 [330] | View Details |
| SRA150-R30 | 620-39223 | 3.1 [79.5] | 171 [752] | View Details |
| SRA200-R30 | 620-39224 | 4.4 [111.8] | 318 [1399] | View Details |
| SRA250-R30 | 620-39225 | 5.5 [139.7] | 510 [2244] | View Details |
| SRA300-R30 | 620-39127 | 6.6 [168.3] | 748 [3291] | View Details |
| SRA350-R30 | 620-39131 | 7.8 [196.9] | 1031 [4536] | View Details |
| SRA400-R30 | 620-39135 | 8.5 [215.9] | 1359 [5980] | View Details |
| SRA100-R45 | 620-39117 | 2.2 [56.1] | 69 [304] | View Details |
| SRA150-R45 | 620-39136 | 3.3 [82.6] | 135 [594] | View Details |
| SRA200-R45 | 620-39130 | 3.9 [98.6] | 180 [792] | View Details |
| SRA250-R45 | 620-39128 | 4.4 [112.3] | 280 [1232] | View Details |
| SRA300-R45 | 620-39132 | 5.3 [134.6] | 410 [1804] | View Details |
| SRA350-R45 | 620-39133 | 6.0 [152.4] | 590 [2596] | View Details |
| SRA400-R45 | 620-39137 | 7.0 [177.8] | 675 [2970] | View Details |
| SRA850-R45 | 620-39129 | 15.9 [403.4] | 12180 [53592] | View Details |
Have Questions? Click here to contact us