ISO 9001:2015 Certification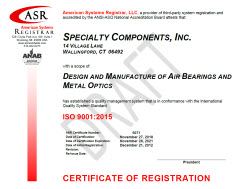 Specialty Components' quality management system is certified to ISO 9001:2015 standards for the Design and Manufacture of Air Bearings and Metal Optics.
This certification shows our continuing commitment to products and services of the highest quality. This ISO standard, written by the International Organization for Standardization, is often referred to as a Quality Management System. However, it encompasses more than just the quality control of our products; it prescribes our method of performing business operations throughout the organization- from customer service, to engineering, to the control of our suppliers and resources. This method creates a cycle whereby by all aspects within the system are measured for performance, reviewed and then improved upon with a focus on the customer in its center.
With independently conducted audits performed each year, customers are given confidence in doing business with a company that has this level of commitment.
Have Questions? Click here to contact us