Circular Flat Air Bearings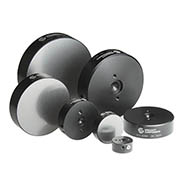 Flat air bearings of the LRA series are designed for aerostatic, frictionless planar or rotational motion while supporting thrust loads using either a porous carbon surface or an orifice fed surface. Anodized aluminum provides scratch resistance of the housing and, if applicable, also the air film surface. A threaded hole located along the side of the assembly provides an inlet for externally pressurized air to reach the gap through either porous carbon or discrete orifices. If equipped, gap sensing air bearings1 have a second port to allow for easy determination of the air gap flying height during assembly or for live health monitoring of the air bearing. Normally, load may only be imparted through the centrally located spherical or flexure mounting seat located on top of the bearing. This spherical seat allows for self-alignment of the planar surface during assembly. Two threaded holes on the top surface allow attachment of a threaded ball stem and retainer and/or flexure assembly; these are offered as optional kits.
A majority of the products we sell are adapted or customized in some way to meet specific application requirements. If you do not see exactly what you are looking for within this product line, please contact Specialty Components; we would be glad to help you design, prototype and manufacture your own idea.
Do you need to know more about the differences of porous surface and orifice type air bearings or how a gap sense bearing can be beneficial in your application? Please click on the "Resources" tab above.
| Model: | Part #: | Diameter, inches [mm]: | Load Capacity, lbs[N]: | |
| --- | --- | --- | --- | --- |
| LRAP100 | 610-22451 | 1.0 [25.4] | 24 [106] | View Details |
| LRAP150 | 610-22452 | 1.5 [38.1] | 67 [295] | View Details |
| LRAP200 | 610-22453 | 2.0 [50.8] | 106 [466] | View Details |
| LRAP250 | 610-22454 | 2.5 [63.5] | 200 [880] | View Details |
| LRAP300 | 610-22455 | 3.0 [76.2] | 300 [1320] | View Details |
| LRAP350 | 610-22456 | 3.5 [88.9] | 407 [1791] | View Details |
| LRAP400 | 610-22457 | 4.0 [101.6] | 533 [2345] | View Details |
Have Questions? Click here to contact us